Posted on: July 13, 2023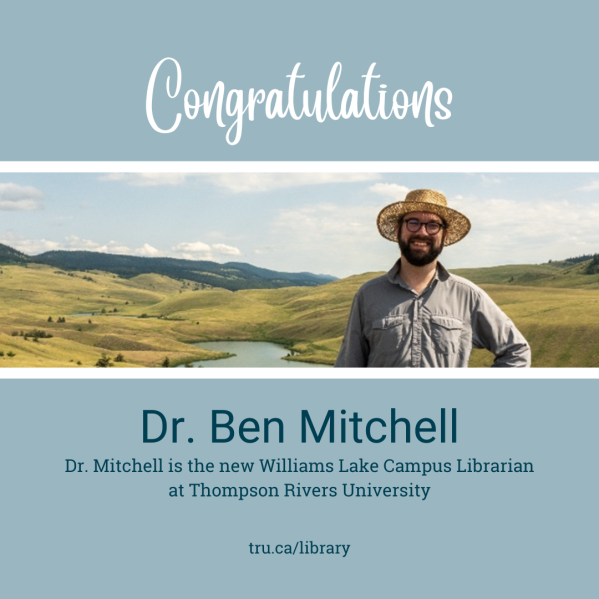 Dr. Benjamin Mitchell is the new Williams Lake Campus Librarian at Thompson Rivers University.  Ben joins us as a tenure track bipartite assistant librarian.
Ben is a librarian, educator, public historian, and scholar. They have a PhD in Science and Technology Studies from York University (2016); a Master of Arts in the History and Philosophy of Science (2009) from the University of Toronto; and a Master of Library and Information Sciences (2019) also from the University of Toronto.
Ben joined TRU as a Reference and Instruction Librarian at the Kamloops campus in a limited term contract position starting in January 2021. They have held a number of other positions. As an assistant curator at the Lakeshore Grounds Interpretive Centre, Ben worked with members of the LAMP Community Health Centre and other disability advocates in Etobicoke, Ontario, to develop, deliver, and evaluate tours, exhibits, articles, and public programs that reflected the diversity of views surrounding the former Lakeshore Psychiatric Hospital. At the Injured Workers Consultants Community Legal Clinic in Toronto, they helped preserve the cultural memory of workers' rights movements and improve record keeping practices for the clinic. Ben has also worked as an instructor at the University of King's College and York University teaching a number of different courses in the history of science and technology.
Ben has published a variety of scholarly and popular articles. Their current research focuses on historical and contemporary patterns of information sharing and community building in neurodivergent spaces and they are one of the coordinators of TRU's Neurodiversity Community of Practice.
In his spare time Ben enjoys video games, working on creative writing, podcasting, and video essay projects, and spending time with friends and loved ones.
The Williams Lake Campus Librarian will be responsible for learning and research assistance and liaison services for the students, staff and faculty in all programs offered on the campus. Ben looks forward to working with everyone in starting on August 1, 2023.