Posted on: March 14, 2023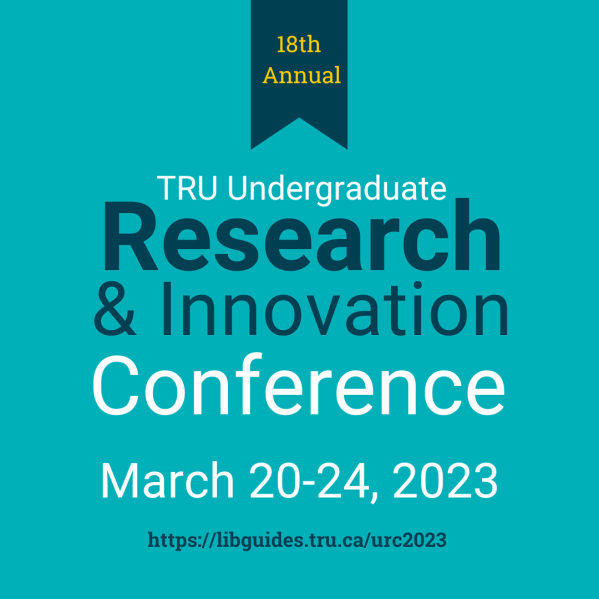 The TRU Library is excited to be hosting the 18th annual TRU Undergraduate Research & Innovation Conference March 20-24, 2023.
The conference is an opportunity for TRU undergraduate students from any year of study to share their work from any program on campus. This year students are sharing work from Biology, Chemistry, Computing Science, Engineering, Geography, Mathematics, Natural Resource Science, Philosophy, Physics, Psychology, Sociology, and Visual Arts. Students have analyzed social media data to explore community views on healthcare policies, examined the economic viability of small-scale agriculture, looked to bacteriophages from sewage water to combat multi-drug resistant bacteria, and so much more. There are several ways you can view their work, all through https://libguides.tru.ca/urc2023
Virtual posters will be available on the site March 20-24. Most students are also presenting at one of two in-person poster sessions taking place in the House of Learning 1st floor Learning Commons; check the website to see who is presenting when, and plan on dropping by to see the posters and chat with some of the students about their work! Finally, use the website to register for one of the virtual lecture sessions, when students will be giving 12-minute presentations about their research, followed by the opportunity for audience questions.
However you choose to participate, the TRU Undergraduate Research & Innovation Conference is free to both TRU attendees and the larger Kamloops community, so plan on spending some time checking out the amazing work being done by TRU students. We look forward to welcoming you!
Questions about the conference can be directed to Elizabeth Rennie, erennie@tru.ca