Posted on: February 1, 2023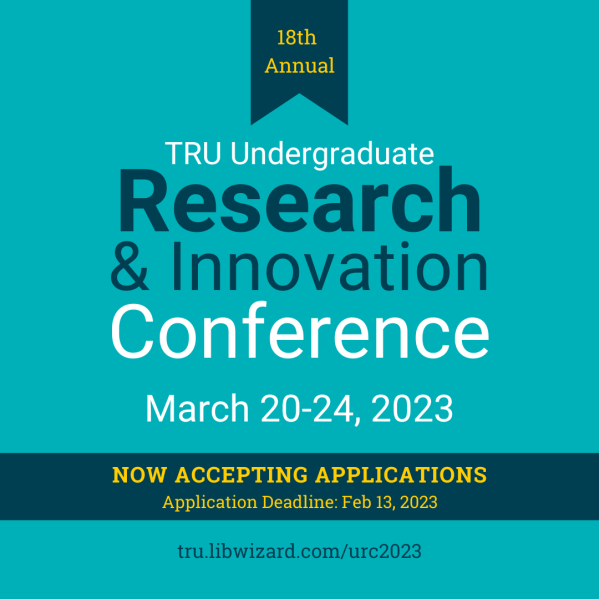 TRU Undergraduate Students: Share Your Research!
The TRU Library is once again pleased to be a partner in hosting the 18th annual TRU Undergraduate Research and Innovation Conference which will take place March 20-24, 2023.
The conference is an opportunity for TRU undergraduate students from any year of study to share their work from any program on campus. Create a poster that will be shared online or at an in-person poster session in the Learning Commons in the House of Learning, or tell us about your work as a 12-minute virtual talk in an online lecture session – or choose more than one option. The Undergraduate Conference is a chance to let the campus and Kamloops community know more about what you've been working on, and both traditional academic posters and creative expressions of your knowledge are welcome. Past conferences have seen students sharing the results of ongoing research collaborations, artwork, creative writing, in-depth research essay assignments, photos of fieldwork projects, and more.
TO APPLY: Fill out the form at https://tru.libwizard.com/f/urc2023 by Monday February 13, 2023. You will need to provide a title for your presentation, the name of a faculty supervisor who oversaw your work or who is assisting you in preparing for the conference, and an abstract that lets us know, in a few sentences, what your project is about, what you did (a literature review, field work, developed an innovative process, responded to learned knowledge through poetry or artwork, etc.) and what the impact of your work is. This information will go in the online conference program, so basically you're telling the world what your work is about and why they should take the time to come view it!
Students can choose to present work that is being done this semester, or base their poster and presentation and work that was completed last semester. You can see what last year's presenters did at https://libguides.tru.ca/urc2022 Successful applicants will receive additional information about submitting poster files in March (the conference will pay for your printing costs if you send us your file early enough), exact presentation times, and the workshop and drop-in assistance opportunities available through the Library and Research Office to guide you in preparing for the conference should you want the support.
We look forward to seeing what you've been working on!
Questions about the conference can be directed to Elizabeth Rennie, erennie@tru.ca