Posted on: December 4, 2020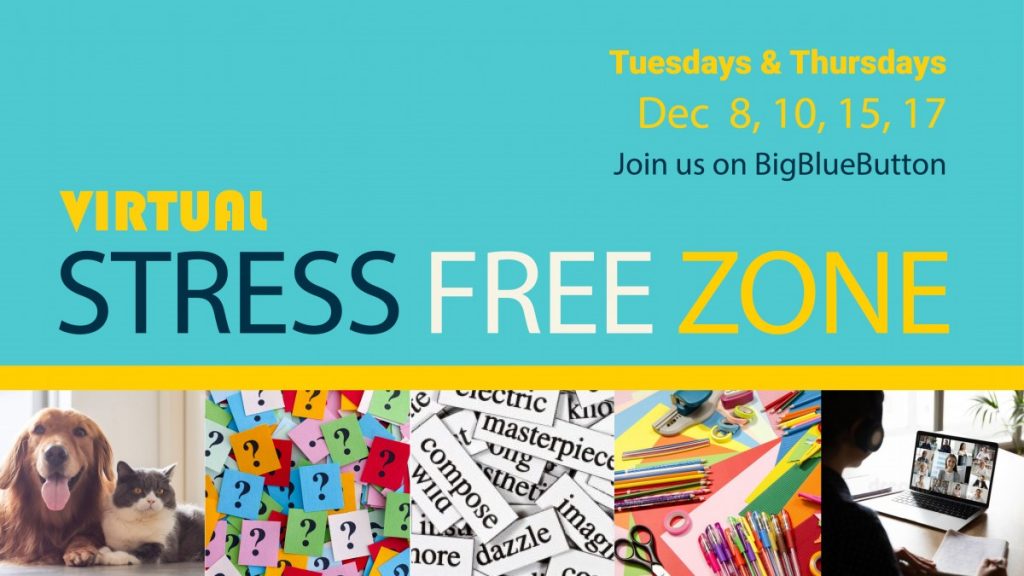 Now that final exams are here, it's more important than ever to breathe, stretch, and take a break. Join us in the virtual TRU Library Stress-Free Zone to share a pet, learn a craft, play a word game, or answer some fun trivia! Drop in to say hi, stay for a game, or just hang out for a bit – everyone's welcome!
There will be 8 sessions, 2 each day on Tuesdays and Thursdays, Dec 8, 10, 15, 17. Join us in this BigBlueButton room: https://bigblue1.tru.ca/b/jul-tuf-jz9
No registration required. For More info on this year's Virtual Stress Free Zone click this link:
https://libguides.tru.ca/VirtualStressFreeZone
Schedule
Tuesday, Dec 8
Animal Kingdom
Do you have a furry, scaly, or spiny pet? We'd love to meet your pet – and introduce you to ours! Featuring a live animal cam from around the world.
10-11am
3-4pm
Thursday, Dec 10
Craft Time
Ever wanted to learn how to knit? Want to learn a fun, simple craft (only supply needed: paper!). Make a craft, learn about some online crafting sites, or just take a break from your studies to hang out with us in the online crafting room.
10-11am
3-4pm
Tuesday, Dec 15
Word Games
Take a __________, and join __________ and _________ for some __________ games!
Noun Name Name adjective
10-11am
3-4pm
Thursday, Dec 17
Trivia Fun
What is LNAP? How many books has Meg read in the past 6 months? Come and test your knowledge of facts and fun!
10-11am
3-4pm