Posted on: April 23, 2013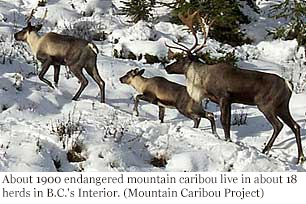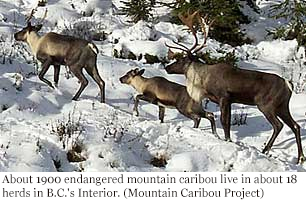 Mountain caribou are not directly displaced by heli-skiing operations over the long term, suggests a TRU student's thesis now in the Library's catalogue.
The thesis by grad student Katharina Huebel, which is accessible online, is titled Assessing the impacts of heli-skiing on the behaviour and spatial distribution of mountain caribou (rangifer tarandus caribou). It was added to TRU Library's catalogue following a show of interest within academic and government spheres.
Huebel studied mountain caribou, which are found only in small subherds across the interior wet belt of British Columbia and whose numbers are declining. She compared data supplied by a commercial heli-skiing operator with caribou location data from a long term study.
Contact: Tom Dickinson, Dean of Science, Thompson Rivers University.  tdickinson@tru.ca