Posted on: September 6, 2023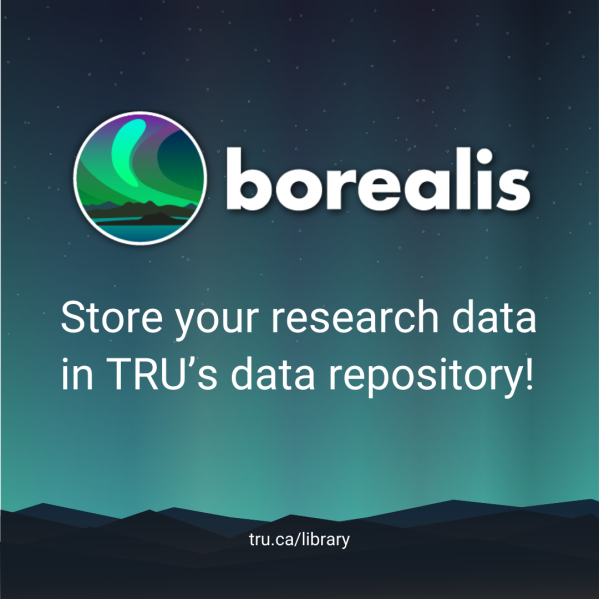 TRU Library has recently launched a secure research data repository for TRU faculty, students, and staff through Borealis: https://borealisdata.ca/dataverse/tru

What is Borealis? Borealis, the Canadian Dataverse Repository, is a bilingual, multi-disciplinary, secure, Canadian research data repository, supported by academic libraries and research institutions across Canada. Borealis supports open discovery, management, sharing, and preservation of Canadian research data. TRU's Borealis Collection is available to researchers affiliated with TRU and their collaborators.

Why deposit data? Depositing data (i.e. uploading data to a repository and providing descriptive metadata) has many benefits. Sharing data can benefit future work in your field as other researchers will be able to use your data. Your work may also be cited more, as your data can be cited as well as or instead of your publication. Finally, some grants are starting to require that data be deposited in a repository. Depositing your data into TRU's Borealis collection will meet these requirements.

What is Research Data Management? RDM involves managing data over its entire lifecycle. The key elements include collecting and describing data, storing and preserving data, and sharing and archiving data. A Data Management Plan (DMP) is a document that outlines your plans for these steps. Depositing your data in Borealis can be an important part of your DMP.

To get started with Borealis at TRU, visit the guide: https://libguides.tru.ca/borealis
Check the library events calendar for upcoming Borealis information sessions to learn more, or contact the Scholarly Communications Librarian Erin May with your questions or to schedule a custom workshop for your department, course, or research team.