Posted on: April 3, 2013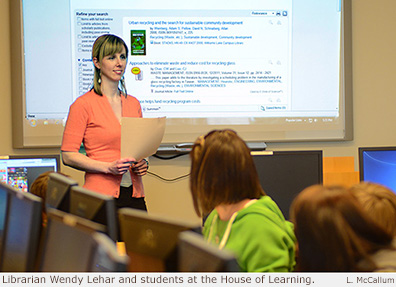 Information literacy is truly a cross-campus learning objective at TRU.
Since the start of September, the Library Instruction Program has provided library instruction for 4,189 students in 209 classes and workshops, up slightly from the 2011-12 academic year.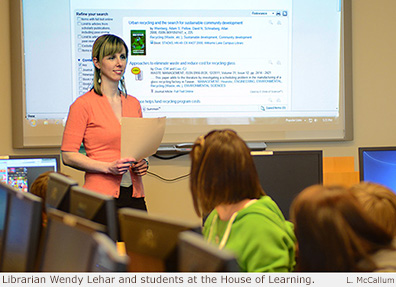 TRU Library's Instruction Program is based on a graduated structure, helping students develop research skills as they progress though their programs. The students taught ranged from University Preparation through to Graduate Studies. Classes were taught for all Schools and Faculties on campus. The program is course-specific, insofar as librarians tailor their lessons to each section of each course in order to match content and activities with current course demands.
Whenever possible, library instruction took place in campus computer labs in order to give students hands-on research experience. Usually, this entailed finding scholarly books and articles for an upcoming course assignment while using discipline-specific search tools and strategies introduced by the teaching librarian.
Two particularly innovative instruction sessions took place in ENGL 4260 and BIOL 1210. They illustrate library instruction's rich potential and the willingness of librarians to collaborate with instructional faculty to develop high-impact library learning experiences:
In the Fall semester, ENGL 4260 students had a librarian make three short classroom visits, rather than the more typical single two-hour session. The first visit was used to discuss what students found frustrating about research, and where they already felt confident; the subsequent visits briefly addressed these specific concerns. Demonstration of resources and searching was kept limited as it was felt that most fourth-year students already knew these general skills; instead, every student was required to make a one-on-one appointment with a librarian to consult on his/her specific research topic — something most admitted they had never considered doing before.
In early March, the library instruction team taught 36 hours of BIOL 1210, as twelve lab sections each spent their three-hour lab that week in the Library's computer lab. What made this week a highlight for the librarians was how productive the time was; with group bibliographies due the following week, students quickly learned to delegate the tasks of exploring the library bookshelves (often for the first time) and searching for relevant scholarly articles online. They imported their search results to the shared RefWorks accounts they'd learned to set up for tracking their work and creating a final bibliography. With an hour of instruction followed by two hours of hands-on group work, and with the librarian still on-hand to assist where required, these sessions were relevant, timely and productive for all involved.
While the bulk of library instruction was accomplished during class time at the request of instructors, the library did also offer a variety of drop-in workshops. These included RefWorks workshops and Academic Integrity workshops taught in collaboration with the Academic Integrity Committee, both of which have been offered for several years and which can be modified for in-classroom delivery upon request.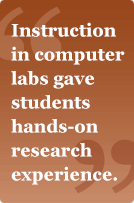 Two new workshop offerings included the very popular Online Mapping classes offered by the Borrower & Data Services Librarian Christina Nilsen, and a couple of Sunday night workshops offered in Residence, with the intent of bringing library assistance to where students were already working. Library instruction was also occasionally offered as part of the PACE (Pack's Academic Edge) program being piloted this year to provide similar support to student athletes on Sunday evenings.
With the academic year coming to an end, the Library would like to thank instructors for their support of the Library Instruction Program. Library instruction is offered throughout the summer, and librarians welcome the opportunity to discuss with you over the summer months how library instruction might be incorporated into your program in the Fall.
Elizabeth Rennie
Instruction and Outreach Librarian