Posted on: March 4, 2019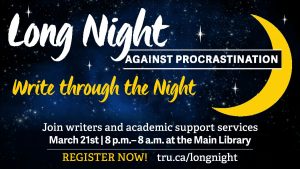 Writing doesn't have to be a lonely and isolating chore requiring endurance and fortitude.
On March 21st, join a campus community of writers and academic support services at the Long Night Against Procrastination. Stay up late together, attend academic and wellness workshops throughout the night, and put a dent in your assignments!
Registration isn't required, but it does helps the organizers know how much coffee, pizza and healthy snacks to have on hand.
For more information, and FAQ, check out http://tru.ca/library/lnap.html