Posted on: October 9, 2018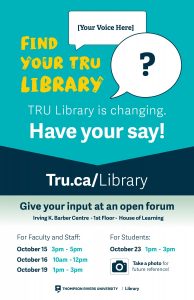 Yes, the TRU Library is undertaking the development of a new five-year strategic plan and changes are underway!
For us to provide excellent spaces, resources, and services, we need to know what you use, what you need, and what you can imagine. We encourage you to complete our online survey, attend a forum or focus group, or both! 
There will be open forums held in the Irving K. Barber Centre on the 1st floor – House of Learning.
Faculty and Staff forums:
October 15 – 3pm to 5pm
October 16 – 10am to 12pm
October 19th –  1pm to 3pm
Student forums:
October 23rd – 1pm to 3pm
For more information and to complete the short survey, please go here: