Posted on: January 17, 2013
Why not test-drive a fascinating new database containing all the beer in China?
TRU Library has launched a trial of the Euromonitor Passport database, which houses a vast array of global market data, statistics and analysis. Passport allows researchers to drill down by product, region, country, company and brand to find out who's consuming, producing or marketing what, where.
The trial is already live, giving faculty and students a remarkable sandbox to play in until Feb. 8. "By passing through our link, they will have immediate access, provided they are on-campus," says Penny Haggarty, TRU's Collection Services Librarian. Trials allow the TRU community to evaluate a database over the course of some weeks to determine whether a subscription would support the curriculum and faculty research.
As part of the trial, the Library has an online form where anyone who uses Passport is invited to provide the librarians with feedback.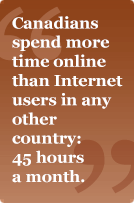 The Passport trial was requested by the TRU's School of Business and Economics, Haggarty said. "Euromonitor Passport also contains data that may be of interest to Tourism — categories like travel & tourism, alcoholic drinks industries, consumer trends and lifestyles."
While it is keyword-searchable, Passport's sophisticated interface is designed primarily for narrowing down via "dashboards", menus and "category trees" that list industry and geographical categories to select from. The end results can be tabular data or colourful maps.
For example, an easy browse determines that Canada may not be the great beer-consuming nation that some Canadians claim. China has the largest market for beer, at nearly 30 billion liters annually. The U.S. is second, at about 17 billion liters, followed by Russia, Brazil, Mexico and Japan. The U.S. top brands are Bud Lite (21% of the market) and Coors Lite (9.2%).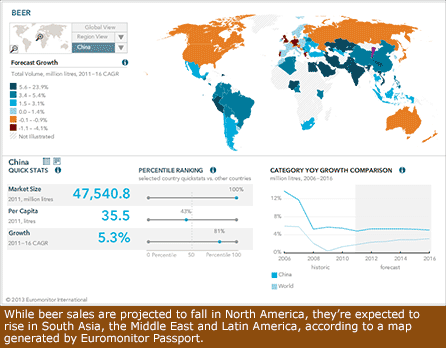 Per capita, the strongest beer markets are all in Eastern Europe, particularly the Baltic States. Worldwide, the cider and spirits markets are forecast to grow faster than the beer and wine markets.
Euromonitor International is a London-based market intelligence firm. Founded in 1972, its more than 1,000 analysts and consultants source market information in 80 countries, producing consumer industry market reports, reference books, company profiles, current market data, and market forecasts.
Passport contains more than 18,000 full-text market and country reports, company profiles and "strategy briefings". Regarding Canada's telecom market, Passport offers some interesting statistics and analysis:
Broadband Internet subscriptions grew by 36.7% over 2006-2011, boosted by the Canadian government pushing access in rural areas;
Mobile phone subscriptions expanded by 37.9% over 2006-2011 as eventual competition drove the market forward. In line with this increase, mobile telecommunications revenues as a percentage of total telecom revenues climbed strongly from 35.2% in 2006 to 44.7% in 2011;
Canada was ranked ninth out of 142 countries in the World Economic Forum (WEF's) Networked Readiness Index (NRI) 2012, two places up on its 2007 ranking out of 122 nations, propelled by investment in infrastructure;
In March 2012, comScore reported that Canadians spend more time online than Internet users in any other country, at 45.0 hours a month.