Posted on: November 22, 2012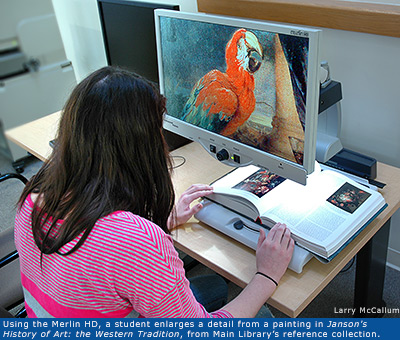 Three ingenious new devices at Main Library will enable hearing-, speech- and vision-impaired people to do what most of us take for granted — read text and communicate with others.
The three state-of-the-art "assistive technologies", funded by the Provost's office, were added to TRU Library's arsenal this month. They include:
an UbiDuo, for face-to-face textual communication;
a Merlin HD for magnifying books; and,
a Kurzweil 3000, which reads books aloud.
"The Library put forward that it needed to make its print resources and services available to the full range of students, to enable them to be successful in their academic pursuits," said acting University Librarian Kathy Gaynor. "And the Provost's office funded the equipment."
The UbiDuo is a compact pair of laptops that function like walkie-talkies. Flip them open, detach them at the hinge (they're like Siamese twins), and then two people can "chat" live across a table from one another. In fact, it's more "live" and fluid than regular chat or texting — as you type, your text appears on the other screen, character by character, providing the immediacy of verbal dialogue.
"It enables hearing- and speech-impaired people to have spontaneous conversations," said Melissa Svendson, the TRU librarian responsible for assistive technologies. "It's incredibly easy and straightforward."
The UbiDuo, which can be borrowed on a renewable three-hour loan, and taken outside the library, will prove invaluable when users with special needs want to have a proper dialogue with a professor, counselor or librarian. The device uses its own internal network rather than relying on the Internet.
With their tiny 5-inch screens and molded plastic, the UbiDuo laptops "look like a pair of Tandy computers from the 1980s, but in the right circumstances they can make a very big difference," Svendson said.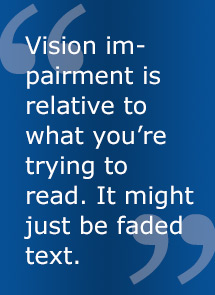 The Merlin HD magnifier is the simplest and most intuitive of the three devices — and may prove the most widely used. Switch it on, plop down a book on its easel, and it auto-focuses, rendering even the tiniest text as large and sharp as a newspaper headline. The easel itself glides effortlessly in any horizontal direction for positioning specific text or images under the magnifier. A "mode" switch toggles through a rainbow of colour combinations — yellow text on a blue background, for example, or simply white-on-black — to achieve optimal contrast for a user's particular impairment.
The Merlin also holds promise for art students wanting to study images in detail — and Boomers with aging eyesight.
"One of the reasons it will be well-used is that vision impairment is relative to what you're trying to read," Svendson said. "It might just be faded text in a small font on yellowed paper."
The talking Kurzweil 3000 is really a super-sophisticated piece of software rather than an actual device. It now resides on a desktop computer next to the Merlin HD. But the Kurzweil also requires other hardware — a small scanner and set of headphones which the user checks out from the Main Library's circulation desk nearby.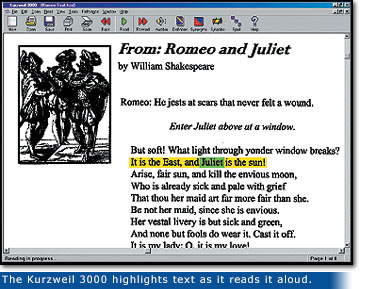 It works by placing a book face-down on the scanner. The software then "reads" the text, highlighting the words in yellow as it "speaks" them aloud. Alternatively, the user can make the software read a PDF from a flash drive plugged into the PC.
"It's not just for vision-impaired people — it's for anyone with a print disability," Svendson said.
The Kurzweil could prove highly effective for English-as-a-second-language students as well, given its ability to sound-out words as it highlights them. The software also will look up a given word's definition in its own dictionary, if you ask it to.
In all, these devices catapult TRU from a university that lacked critical assistive technologies to one that's especially well equipped. "When I arrived here, I was surprised to find that TRU didn't have some of this technology," Svendson said.
Further reading:
UbiDuo
–Video http://www.youtube.com/watch?v=Y7bXGZbVUUs
–More info: http://www.scomm.com/ubiduo
Merlin HD: http://www.enhancedvision.com/low-vision-product-line/merlin-hd-desktop-electronic-magnifier-for-low-vision.html
— Brochure: http://www.enhancedvision.com/downloads/brochure/Merlin-HD-Flyer.pdf
— Instruction Manual: http://www.enhancedvision.com/downloads/users-manual/Merlin-HD-Users-Manual.pdf
Kurtzweil: http://www.kurzweiledu.com/products.html