Posted on: March 17, 2016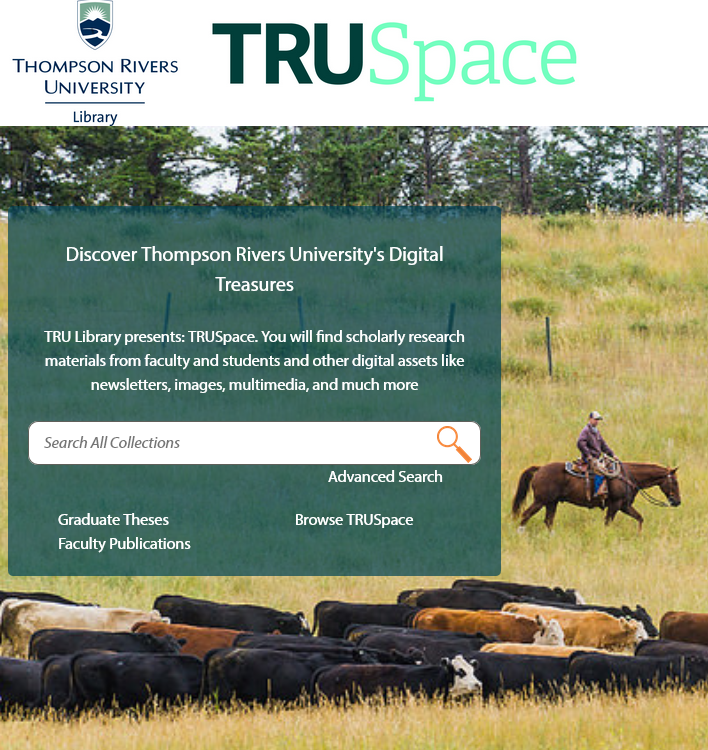 The University Library is pleased to present the TRU community with a valuable and versatile new academic and research resource: TRUSpace, Thompson Rivers University's very own institutional repository.
"An institutional repository (IR) is a digital collection of an institution's intellectual output. IRs are a key infrastructure component in the digital environment because they provide better access to our digital assets and they ensure that digital objects are managed appropriately." (Source: Canadian Institutional Repositories, http://www.carl-abrc.ca/ir.html, accessed March 9, 2016)
 TRUSpace is a secure site housed on a Canadian server. Its content can be discovered via Google and other search engines, as well as the Library's own discovery layer. Content can be configured to be fully open access, to honour required publisher embargo periods or be restricted in other ways (i.e., "Bibliographic information only", or "Access restricted to TRU affiliates only" etc.).
TRUSpace is a multi-faceted resource with a number of key benefits. For example it will:
be a repository for the research, creative activity and knowledge mobilization efforts of TRU faculty, students and staff;
ensure TRU meets Tri-Council and other funding agency requirements for open access to funded research;
provide a digital archive for unique TRU or Kamloops regional content of significant educational and/or cultural interest;
accommodate articles, book chapters, images, visual media and recordings, data sets, and nearly any other medium one can imagine.
TRUSpace supports TRU goals
We expect much interest in TRUSpace from our community, and plan to fully leverage its potential to advance key TRU goals – including direct support for the strategic priorities of Increasing Research Capacity and Increasing Student Success, indirect support for the remaining three strategic priorities, and provision of ready access for faculty, students and staff to the intellectual output of their colleagues and classmates while supporting "open access to knowledge creation" – a cornerstone in TRUs commitment to "Access to Excellence".
TRUSpace is accessible now
TRUSpace has been in a beta/testing phase since last September, with library staff developing and fine-tuning the processes and procedures necessary to make it functional. We do ask for your patience, as we anticipate that interest may exceed our available resources! Library staff looks forward to working with all interested TRU affiliates to support the addition of research and other output and creative activity into our TRUSpace.
Questions? Interested in submitting content to TRUSpace?
Get in touch!
Please visit TRUSpace at tru.arcabc.ca
OR
As University Librarian, I am delighted to lead the introduction of this vital addition to the discovery, access, and research mobilization efforts of Thompson Rivers University. I would like to acknowledge the incredible dedication and hard work of Kathy Gaynor, Scholarly Communications Librarian and support staff Jim Dupuis and Nichole Bunn who enthusiastically contributed their skills and commitment to this project. Without their efforts TRUSpace would still be a good idea on paper with no basis in reality.
Watch for more information in the coming weeks. We look forward to serving you through TRUSpace!
Sincerely,
Brenda Mathenia, University Librarian and the TRU Library Team